The Fishing Highway has opportunities for every kind of angler. We have Lake Trout, Kokanee, Rainbow Trout, Brook Trout, and Burbot that anglers can target. With so many different lakes there is always a lake that can match your fishing style. Many resorts along the highway offer cabins or camp sites with boat rentals, docks, and boat launches available. Also consider staying at one of the resorts, B&B's or Guest Ranches and day tripping to all the great lakes along the highway. When fishing, please always follow the Freshwater Fishing Regulations for Region 5 or 3, carry a valid BC Recreational Freshwater Fishing Licence and an up-to-date Transport Canada Pleasure Craft Operator Card (if applicable).
Find stocking reports, depth maps and directions regarding different lakes in the area on GoFishBC selecting
"region"
CARIBOO and
"town"
BRIDGE LAKE.
Find general information, maps, species & fishing regulations on Angler's Atlas searching for lakes by name, location or species.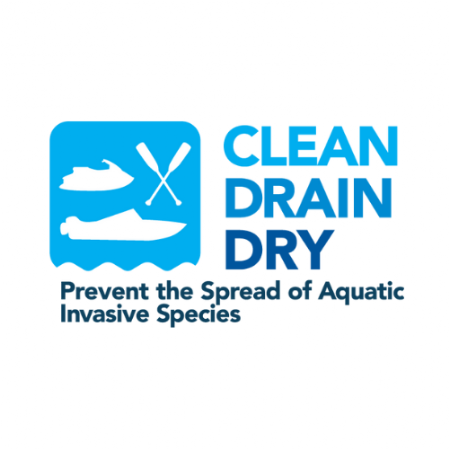 Clean, drain, dry your watercraft
Boats and other watercraft, including kayaks and canoes, easily and frequently carry invasive species from one body of water to another. These aquatic invaders are entering BC's beautiful lakes, streams, and wetlands. Boaters, anglers and paddlers can all take action now to help stop the spread by practicing Clean Drain Dry.
Clean

: After a boat is pulled from the water, thoroughly clean all plants, animals, and mud from the boat, motor, trailer, and other equipment.

Drain

: Drain onto the ground all water from the boat (bilges, engine compartments, hull, intakes, etc.) and from containers that can hold water, including bait containers, live wells, and ballast.

Dry

: Allow all items to dry completely before transporting the boat and equipment to another water body.
Thanks to receiving 100% of fishing licence revenue, t
he Freshwater Fisheries Society
has been able to install
new fishing docks around the province. Since 2015, docks have been installed in communities where fishing from docks was previously unavailable, or fishing from shore was poor. Now everyone – from avid anglers who want to fit in a quick hour of fishing, to new anglers who don't have access to a boat – will be able to enjoy good fishing on more lakes.
The following lakes in our area have been updated with a public fishing dock:
To see if one of these new docks, or an existing dock, is located at a stocked lake near you, visit our Where to Fish map and select the Dock filter.
Picture on the left: Public fishing dock at Irish Lake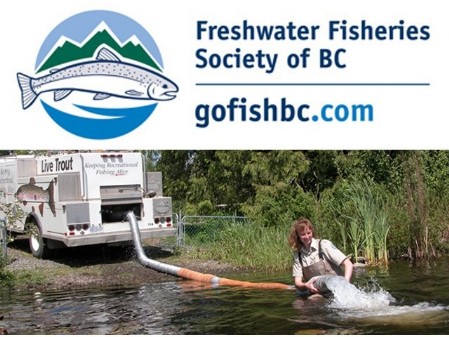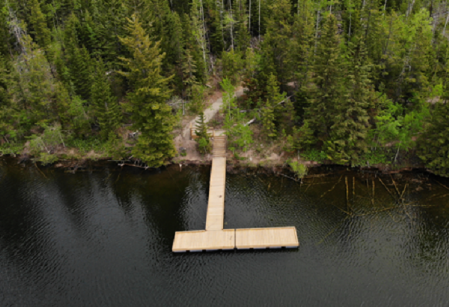 With four species of fish this is a great lake to spend some time on. You can catch Rainbow, Kokanee, and Lake Trout on Mayfly and Chironomid imitations. For the anglers who like to gear fish targeting Lake Trout in excess of 30lbs in the deeper waters and Kokanee up to 3lbs. When fishing the shallows you will find Rainbow trout willing to take flies.
Trophy Rainbow pushing 20lbs can be found here. Both gear and fly fishing styles work in this scenic lake. For gear in this lake try using plugs, flatfish, and hot shots. For fly fishing there are so many things about this lake that are great. In the spring & early summer you can find anglers in deeper water Chironomid fishing to depths of 90 ft. As the summer progresses and hatches start to happen, the fish will move into the shallows where you can target them using Dragons, Leeches, Damsels, and Shrimp. Fall fishing on this lake, you can find the fish cruising the shallows where you can actually sight fish for them.

These two lakes are known for their great Kokanee fishing. Kokanee in these lakes grow larger then 5lbs and seem to average in the 3lb range. Target Kokanee suspended over deeper water using dodgers and mini-hoochies or wedding bands in bright colors. Lake Trout in these lakes also grow to the 30lb range. Target them using large spoons or rapalas down deep. You can also jig for these fish using 2-4'' buzz bombs.
This Lake has a boat launch being built on the north end. To gain access you would have to ask Moosehaven Resort to use their boat launch and dock. There is a healthy population of Rainbow Trout in this lake. In 2015 it was stocked with 17500 Kokanee and has been stocked yearly from then on. This lake is great for those anglers who prefer a smaller lake to target Kokanee and Rainbows on. Try your luck along the shoreline for Rainbows with flies or gear, and out over deeper water for Kokanee with dodgers trailed with wedding bands, apex, micro hoochies, or spinners in bright colors.
This wonderful little lake is every fly fisherman or fisherwoman's dream. Electric motors only to keep a nicely quiet and relaxing experience. Anglers can target Rainbows that get larger then 5lbs. Chironomid, Mayflies, Leeches, and Dragonfly nymphs would be great options to try here.
There are many lakes here that are hike-in lakes and receive very little pressure. Some of these lakes even produce high double digit rainbows. Make sure to pick up a Backroad map book for the area. Fly fishing is usually the method of choice for these pristine lakes. Have Micro Leeches, Damsels, Dragons, Chironomid, and Mayflies in your box.